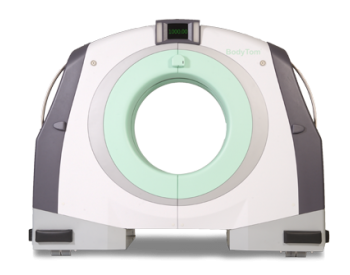 Danvers, MA (November 13th, 2012) - NeuroLogica Corporation, the only manufacturer of portable computer tomography solutions, is pleased to announce the Health Canada clearance for the portable CT scanner, BodyTom®. This clearance allows for sale and use of BodyTom® in the Canadian Provinces.
BodyTom® is the latest product in NeuroLogica's line of computer tomography solutions. BodyTom® is the world's first portable, 32-slice, full body scanner. The combination of internal radiation shielding, dual drive system and a revolutionary battery array allow BodyTom® to be transported throughout a hospital or facility and provide essential CT scans to the most critically ill patients while increasing safety to the patient and staff. With an 85cm gantry and 60cm field, BodyTom® produces high quality DICOM images which are compatible with the top names in surgical navigation and planning systems.
"Gaining Health Canada clearance marks a great step forward for NeuroLogica and for BodyTom®", said Dr. Eric Bailey, founder and CEO of NeuroLogica. "Meeting the rigorous standards set forth by Health Canada allows NeuroLogica to bring this powerful and high quality 32 slice CT scanner into the operating room, the ICU and the ER. We expect BodyTom® will have a significant impact on improving care and a surgical outcome in Canada as it has in the United States and in Europe."
BodyTom® is the third product developed by NeuroLogica to receive Health Canada clearance. CereTom®, the portable 8-slice CT scanner designed for the head and neck, and the InSPira HD™, a high definition SPECT scanner, are also licensed for sale and use in the Canadian Provinces.
For more information on Health Canada Clearance for BodyTom® or NeuroLogica Corporation, please contact Jason Wheeler at 1-978-564-8500 or by email at jwheeler@neurologica.com.
About NeuroLogica
Located in Danvers, Massachusetts, NeuroLogica Corp (www.neurologica.com) specializes in the design and manufacture of cutting edge imaging equipment that is easy to use and brings the power of imaging to the patient. NeuroLogica`s BodyTom® CT and CereTom® CT are FDA registered and the quality system is certified to ISO 13485:2003 and ISO 9001:2008 with Canadian Medical Device Amendments. NeuroLogica`s BodyTom® CT and CereTom® CT are CE marked (European Conformity) for distribution in the European Union and European Economic Area.