OTOscan
This product is only available in the US
The OTOscan is a truly unique offering in a class of its own. The OTOscan is a portable multi-slice (0.625mm) TRUE CT scanner capable of generating 16 images per centimeter. The compact footprint, internal lead shielding, and robust imaging software make the OTOscan perfect for use in your ENT practice, easily converting your smallest office space into a powerful ENT imaging suite. This compact design, combined with its ability to image both bone and soft tissue, bridges the gap between conventional fixed full body CTs, like those found in hospitals, and the smaller less powerful flat panel scanners found in private practices.
Optimized For Use In
Aqusition of Bone and Soft Tissue
Diagnosis, treatment and surgical planning in a single office visit
No need for off-site visits for imaging needs
Features
Superior Imaging
• 0.625mm Slice Thickness
• Internal Lead Shielding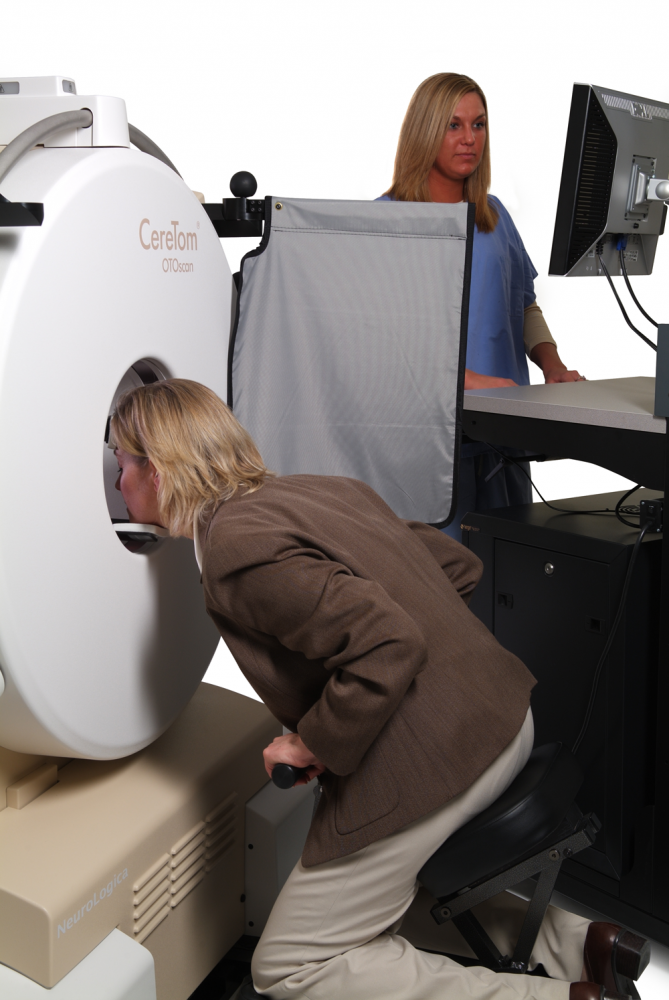 • DICOM 3 image sets compatible with all teleradiology services
• Integrates with PACS
Superior Diagnosis
• Desktop Imaging and Reconstruction computer
• View in 2D and 3D
• MPR (Sagittal/Coronal/Transverse Views)
Improved Patient Care
• Keep patient in-house for total care
• Allows for timely diagnosis, treatment and surgical planning
• Alleviates patient anxiety
• Eliminates additional visits
Why CereTom OTO Scan?
• OTO scan is a true CT scanner
• Complete control over patient care
• Delivers high quality 2D and 3D images
• Exquisite bone and soft tissue image capture
• Images are compatible with all surgical navigation systems
• No on-site lead shielding in needed
• Add a practice revenue stream

Dimensions
Clinical Images
Intraoperative Applications
Doro CereTom Intraoperative Head Fixation Solution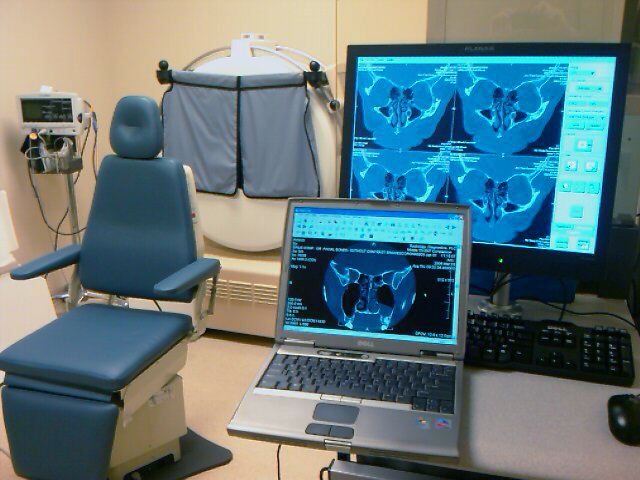 When combined with the DORO CereTom Radiolucent Skull Clamp and Horseshoe, the CereTom OTOScan portable CT scanner provides reliable head fixation and rapid, high quality intraoprative imagin capabilities for a variety of neurosurgical procedures.
Navigation Compatibility
Intraoprative navigation is a necessary tool in the successful planning and execution of surgical procedures. CereTom OTOScan produces DICOM 3 compliant images and those images have been validated for use with navigation systems from BRAINLab, Medtronic, Stryker and Radionics. This integration is critical in providing the most up-to-date information and reduces the need for the patient to travel outside to the OR for completion of the case.
Literature
Accessories
The Direct Coronal/Axial Chair
Designed with patient comfort in mind, this special designed chair can accomodate patients of all sizes. Increased comfort means patients are less inclined to move during the scan resulting in the clearest images possible. The detatchable Coronal and Axial plates allows for optimum support for the patients head and neck.