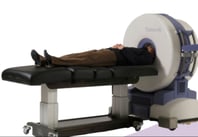 Navigation-guided procedure has been widely conducted in the neurosurgical filed to perform anatomy-oriented approach. However, the approach cannot reflect the real-time intracranial image due to differential spatial displacement caused by cerebrospinal fluid drainage, volume change after surgical evacuation or newly developed lesions such as aggravation of brain edema or increased hematoma. Therefore, intraoperative scanning including computed tomography (CT), magnetic resonance imaging (MRI) and ultrasound sonography have been adapted to obtain real-time findings for operators to minimize invasion of normal brain tissue.
Considering consumed time, mobility, without major reconstruction of current facility in operative room (OR) or intensive care unit (ICU), objectivity and costs, mobile CT (mCT) can be a more appropriate method.
Since the first introduction of mCT as an intraoperative monitoring modality at Seoul National University Hospital in late 2008, four mCT have been installed in Korea. Besides the established use of mCT in the OR, this apparatus can allow neurosurgeons to make appropriate management decisions in the ICU by obtaining relevant imaging data more safely and rapidly.
The purpose of this study was to report the 3-year experience with mCT under various clinical circumstances focusingon indications and advantages.
Click the link below to access the entire study.