Companies partner to dispatch mobile vehicle solutions, including optional all-electric/zero-emission
vehicles to bring life-saving lung screenings across America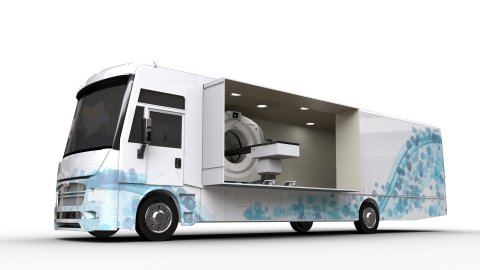 NeuroLogica and Winnebago will display a mobile lung screening clinic (above) at the 2018 Radiological Society of North America's Annual Meeting (RSNA) in Chicago, Illinois, from November 25-30, 2018 Booth 5535 South Hall.
DANVERS, Mass. – November 20, 2018 – Aiming to bring life-saving low-dose lung screenings to underserved areas of the United States, NeuroLogica announced today a partnership with Winnebago Industries, Inc. (NYSE: WGO) to provide access to mobile computed tomography (CT) clinics across America. The units will feature NeuroLogica's BodyTom Elite®, the world's first portable, full-body, 32-slice CT scanner on board a J38S Winnebago commercial vehicle platform, from Winnebago's Specialty Vehicle Division. The mobile CT clinics will offer healthcare providers the ability to perform low-dose lung cancer screenings and travel city-to-city to improve access to lung diagnostic services.
NeuroLogica and Winnebago will display a mobile lung screening clinic at the 2018 Radiological Society of North America's Annual Meeting (RSNA) in Chicago, Illinois, from November 25-30, 2018 Booth 5535 South Hall.
"We are proud to increase access to low-dose lung screenings through our partnership with Winnebago," said David Webster, NeuroLogica's Chief Operating Officer. "This is an important step toward delivering high-quality care to patients in the community, especially those patients beyond a healthcare systems' immediate service area."
The mobile CT clinic will feature:
BodyTom Elite, the world's first portable, battery-powered, full-body, 32-slice CT scanner.
Optional all-electric/zero-emission powertrains will be available through Winnebago's partnership with Motiv Power Systems.
A Lithium-ion battery-based energy management system from Volta Power Systems, which will replace the traditional generator for onboard power and reduce vehicle emissions.
Vehicle upfit and customization through Summit Bodyworks Specialty Vehicles, a Denver-based custom vehicle upfitter.
"Winnebago has always been a market leader and industry innovator," said Jamie Sorenson, Winnebago's Director of Specialty Vehicles and Advanced Technology. "This year, Winnebago celebrated being in business for 60 years, and for more than 40 of those years, Winnebago has produced commercial vehicles for all types of applications, with a focus on mobile outreach. This partnership with NeuroLogica represents the next evolution in mobile healthcare innovation and has the potential to dramatically change a person's life."
According to the American Lung Association, approximately eight million people in the U.S. are at high risk for lung cancer and are eligible for screening. Individuals can take a lung cancer screening eligibility quiz at SavedByTheScan.org.
For more information, visit: neurologica.com, winnebagoind.com, motivps.com, summitbodyworks.com, and savedbythescan.adcouncilkit.org.
About NeuroLogica
NeuroLogica, a healthcare subsidiary of Samsung Electronics Co., Ltd., develops, manufactures, and markets innovative imaging technologies and is committed to delivering fast, easy and accurate diagnostic solutions to healthcare providers. NeuroLogica, the global corporate headquarters and manufacturer of Samsung computed tomography, is also the US headquarters for sales, marketing and distribution of all Samsung digital radiography and ultrasound systems. NeuroLogica's growing portfolio of advanced medical technologies are used worldwide in leading healthcare institutions helping providers enhance patient care, improve patient satisfaction, and increase workflow efficiency. Samsung is committed to being leaders in the field of healthcare imaging. For more information, please visit www.SamsungNeuroLogica.com.
About Winnebago Industries
Winnebago Industries, Inc. is a leading U.S. manufacturer of outdoor lifestyle products under the Winnebago, Grand Design, and Chris-Craft brands, which are used primarily in leisure travel and outdoor recreation activities. The Company builds quality motorhomes, travel trailers, fifth wheel products, and boats. Winnebago Industries has multiple facilities in Iowa, Indiana, Oregon, Minnesota, and Florida. The Company's common stock is listed on the New York and Chicago Stock Exchanges and traded under the symbol WGO. Options for the Company's common stock are traded on the Chicago Board Options Exchange. For access to Winnebago Industries' investor relations material or to add your name to an automatic email list for Company news releases, visit http://investor.wgo.net.
Contacts
Lynne Gagne
NeuroLogica
978.564.8576
Sam Jefson
Winnebago Industries
641.585.6803
sjefson@winnebagoind.com