Samsung will feature the latest innovation in cutting-edge mobile computed tomography, including the state-of-the-art OmniTom Elite with Photon Counting Detector (PCD) technology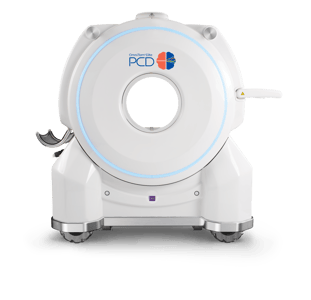 Photo description: The high-tech, yet highly mobile OmniTom Elite with Photon Counting Detector (PCD) CT scanner is designed to offer advanced imaging at the point-of-care.
Danvers, Massachusetts – November 21, 2023 – NeuroLogica Corp., a subsidiary of Samsung Electronics Co. Ltd. and a pioneer in premium diagnostic imaging solutions, will showcase its latest offerings in mobile computed tomography (CT) and feature the OmniTom® Elite Photon Counting mobile CT scanner at the Radiological Society of North America (RSNA) Annual Meeting in Chicago from November 26 to November 30.
The clinical launch of the OmniTom Elite with PCD, the first US FDA 510(k) cleared single-source photon counting computed tomography scanner with a single detector on a mobile system, will be featured at this year's meeting. Photon counting is a next-generation CT technology that sorts the different energies of X-rays after they have passed through the scan field, capturing the X-ray photons directly at the detector and converting the energy to electrical signals.
The OmniTom Elite's ability to provide versatile, real-time mobile imaging enables healthcare providers to administer point-of-care CT to critical patients without the need to transport them to a separate department, expanding the diagnostic possibilities of CT at the patient's bedside.
Upgrading capabilities were top of mind when designing OmniTom Elite mobile CT scanners. In the near term, all current OmniTom users will have the opportunity to upgrade their scanners with the PCD technology. Meanwhile, a limited number of premier research partners will aid in developing the full potential of OmniTom Elite with PCD.
The University of Dundee has partnered with NeuroLogica to collaborate on research aimed at pushing the boundaries of medical imaging in healthcare.
"With NeuroLogica's new, emerging technologies, we are currently witnessing the biggest innovation in imaging in the last decade," said Professor Iris Grunwald, Chair of Neuroradiology at The University of Dundee.
This has allowed NeuroLogica to build on design features from the first US FDA US 510(k) clearance in 2022 to the second one in June 2023, to include high resolution mode scanning and multi-energy CT functionality with spectral capability for material decomposition and virtual monoenergetic images (VMI).*
"The OmniTom Elite is an advanced imaging solution that is extremely mobile, giving healthcare providers more flexibility in when and where they run diagnostic tests for their patients," said Renaud Maloberti, Head of Business, MCT. "We look forward to featuring this innovative technology at this year's Radiological Society of North America Annual Meeting."
Massachusetts General Hospital is also collaborating with NeuroLogica and testing the OmniTom Elite with PCD to monitor post-trauma and post-surgical patients.
"Availability of photon-counting detector technology on a mobile head CT platform is a significant advance in the development of CT," said Rajiv Gupta, PhD, MD, Neuroradiology Division Chief of Massachusetts General Hospital and Associate Professor at Harvard Medical School. "This advance heralds a new era of CT applications in stroke, trauma, ICU and intra-op settings."
NeuroLogica will showcase its innovation at Booth #6113, McCormick Place, and unveil the OmniTom Elite with PCD on Sunday, November 26 at 10:30 am CST, with a live demonstration of this state-of-the-art technology.
Also on Sunday, November 26 from 11:45 am to 12:45 pm CST in the South Building, Level 4, Room S403B, McCormick Place, Dr. Rajiv Gupta of Massachusetts General Hospital and Professor Iris Grunwald of the University of Dundee will host the Samsung NeuroLogica Lunch & Learn Event "Photon Counting: The Next Generation of Neuro CT." They will discuss how leveraging the latest innovation in CT applications may increase productivity and enhance the patient and physician experience.
For more information or to register, visit www.eventcreate.com/e/samsungrsna2023.
*OmniTom Elite with PCD may not be commercially available in some countries. OmniTom Elite with PCD is only supported for adult axial imaging for head and neck.
###
About Samsung Medison
Samsung Medison is a global leading medical device company, specializing in diagnostic imaging devices. With a mission to bring health and well-being of people's lives, the company is committed to create a new future for medical professionals and patients around the world across various medical fields. In 2011, Samsung Medison became an affiliate company of Samsung Electronics, integrating world's best IT, image processing, semiconductor and communication technologies into medical devices.
About Samsung Electronics Co., Ltd.
Samsung inspires the world and shapes the future with transformative ideas and technologies. The company is redefining the worlds of TVs, smartphones, wearable devices, tablets, digital appliances, network systems, medical imaging, and memory, system LSI, foundry and LED solutions. For the latest news, please visit the Samsung Newsroom at http://news.samsung.com
About NeuroLogica
NeuroLogica Corp., the healthcare subsidiary of Samsung Electronics Co., Ltd., develops, manufactures, and markets innovative imaging technologies and is committed to delivering fast, easy and accurate diagnostic solutions to healthcare providers. NeuroLogica is the global corporate headquarters and manufacturer of mobile computed tomography devices. NeuroLogica's growing portfolio of advanced medical technologies is used worldwide in leading healthcare institutions helping providers enhance patient care, improve patient satisfaction, and increase workflow efficiency. For more information, please visit: http://www.NeuroLogica.com.
Media Inquiries
Lynne Gagne
Boston Imaging
978.564.8576
lgagne@bostonimaging.com
Daejin Kang
IR, Samsung Medison
daejin@samsungmedison.com