Company's next generation mobile CT scanner delivers high-quality CT imaging at the point-of-care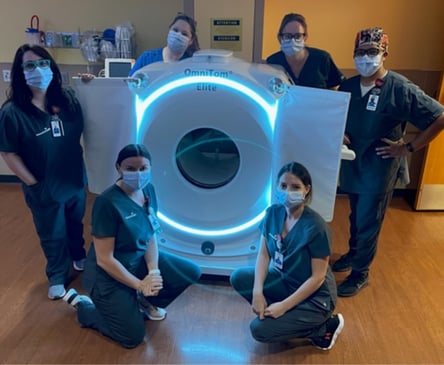 The CT team at Advent Health Orlando with NeuroLogica's next generation OmniTom® Elite.
DANVERS, Massachusetts – November 29, 2021 – NeuroLogica's next generation multi-slice, small bore, mobile OmniTom® Elite, that delivers high-quality point-of-care CT imaging, is released for sale in the USA.

"The OmniTom Elite's ability to provide versatile, real-time mobile imaging enables healthcare providers to administer point-of-care CT to critical patients without the need to transport them to a separate department," said David Webster, Chief Operating Officer of NeuroLogica. "It is truly a facility-wide solution that decreases the time it takes to diagnose and initiate treatment for patients in need of care."
Expanding on the benefits of its predecessor, the OmniTom Elite includes:
Improved omni-wheel design contributes to durability through transport as well as 360-degree mobility
An integrated drive system with drive camera and audio/visual sensors facilitates unimpeded movement through the facility
SmartAlign auto-alignment feature streamlines scanner-to-patient bed alignment which is instrumental in restricted spaces
Battery operated and chargeable in a standard wall outlet, allows for continued use throughout the facility
Integrated shielding to increase durability and protect staff

An ergonomic design with wireless tablet control designed with a single user in mind

Mobile Stroke Unit configuration, for use with emergency vehicles




In addition to the OmniTom Elite, NeuroLogica will also be showcasing its BodyTom 64 (510k pending) large bore scanner; the first ever mobile 64 slice whole body CT.
The OmniTom Elite and BodyTom 64 are on display at RSNA in Chicago at booth 6952 from November 28 – December 2. Learn more by visiting: www.NeuroLogica.com/Mobile-CT/OmniTom
About NeuroLogica
NeuroLogica Corp., the healthcare subsidiary of Samsung Electronics Co., Ltd., develops, manufactures, and markets innovative imaging technologies and is committed to delivering fast, easy and accurate diagnostic solutions to healthcare providers. NeuroLogica, the global corporate headquarters and manufacturer of mobile computed tomography, is also the US headquarters for sales, marketing and distribution of all Samsung digital radiography and ultrasound systems. NeuroLogica's growing portfolio of advanced medical technologies is used worldwide in leading healthcare institutions helping providers enhance patient care, improve patient satisfaction, and increase workflow efficiency. For more information, please visit http://www.NeuroLogica.com.
Media Inquiries
Lynne Gagne
NeuroLogica
978.564.8576
lgagne@neurologica.com