The Memphis Veterans Affairs (VA) Medical Center has selected Samsung NeuroLogica BodyTom Elite mobile computed tomography (CT) for dedicated imaging in designated areas that isolate potential patients with infectious disease from its general patient population.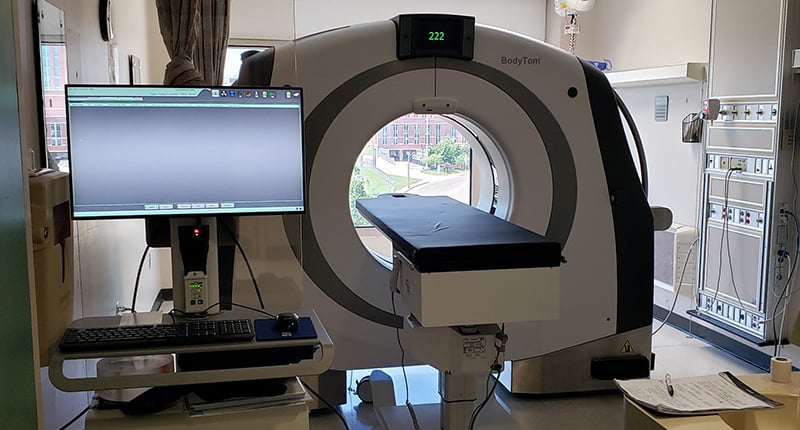 The 32-slice full-body BodyTom Elite scanner combines high image quality with unique flexibility thanks to battery operation, self-shielded design and an innovative internal drive system that enables easy movement throughout the hospital. Without the complex siting requirements of a fixed scanner, the mobile units enabled the hospital to easily and cost-effectively expand its imaging capacity for coronavirus response.
Memphis VA joins the VA San Diego Healthcare System as a pioneer in the use of mobile CT for assessment. Currently, VA San Diego utilizes a BodyTom Elite CT in a specialized outdoor scanning area nearby its virus screening tent. The hospital is pleased with BodyTom Elite and its current deployment. The area provides easy access for emergency department (ED) staff, and infectious disease patients admitted through the ED are quickly and efficiently imaged, as needed, without entering the hospital building.
The use of a dedicated CT also allows time for the scrupulous cleaning required for infectious disease imaging without impacting routine radiology department workflow. Currently, at the VA San Diego Healthcare System, the BodyTom Elite is used to scan an average of four to five infectious disease patients daily.
The VA of San Diego originally purchased the BodyTom Elite as part of an emergency preparedness program and as a general back up scanner. Both applications demanded a high quality, flexible scanner and easy mobility for deployment in a range of settings. When the coronavirus put strains on the hospital's existing CT resources and called for distancing of potentially infectious patients, the mobile scanner provided an excellent solution.
NeuroLogica BodyTom Elite is the first mobile scanner of its kind. The system has an 85cm gantry and 60cm field of view and can accommodate patients of all sizes. The combination of rapid scan time, flexible settings, and immediate image viewing makes the BodyTom Elite a valuable tool to all facilities needing versatile real-time mobile imaging. The hospital also notes that the cost of purchasing a BodyTom Elite was generally comparable to rental of a CT trailer for a single year, but that purchase of a BodyTom Elite clearly had advantages.


About NeuroLogica
NeuroLogica, the healthcare subsidiary of Samsung Electronics Co., Ltd., develops, manufactures, and markets innovative imaging technologies and is committed to delivering fast, easy and accurate diagnostic solutions to healthcare providers. NeuroLogica, the global corporate headquarters and manufacturer of mobile computed tomography, is also the US headquarters for sales, marketing and distribution of all Samsung digital radiography and ultrasound systems. NeuroLogica's growing portfolio of advanced medical technologies is used worldwide in leading healthcare institutions helping providers enhance patient care, improve patient satisfaction, and increase workflow efficiency. For more information, please visit http://www.NeuroLogica.com.

Media Inquiries:

Lynne Gagne
NeuroLogica
978.564.8576
lgagne@samsungneurologica.com