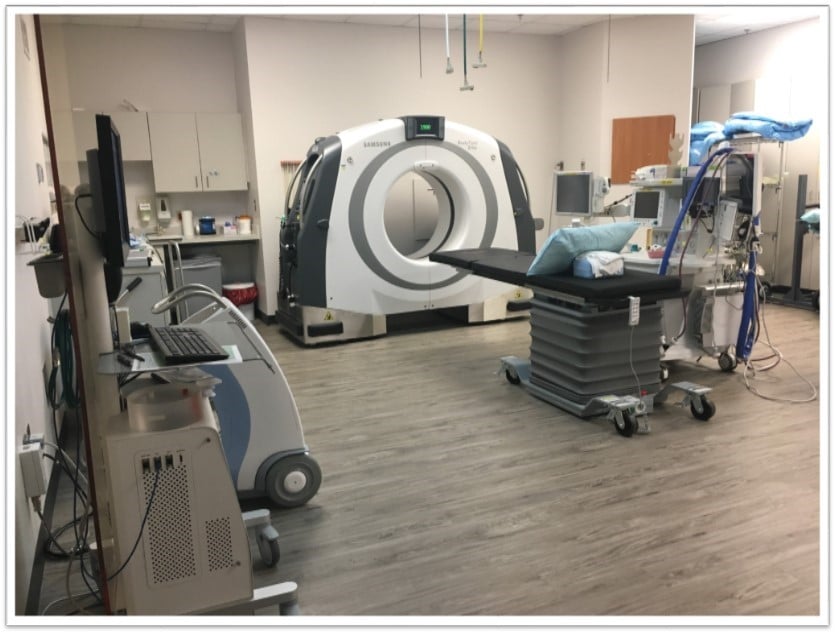 Thirty three years ago, the development of Clinical Laboratory Improvement Amendments of 1988 (CLIA '88), introduced point-of-care testing (POCT), also known as near-patient testing, remote testing, satellite testing, and rapid diagnostics. POCT is diagnostic medical testing performed at or near the point of care of a patient. It is important to note that obtaining results from traditional laboratory is very time consuming. To de-crease turnaround time (TAT), the time from ordering a test to treating the patient, medical personnel are increasingly interested in using POCT; which allows physicians and medical staff to accurately achieve real-time, quality diagnostic results within minutes, as opposed to hours. Through using portable diagnostic machines, testing pushes the diagnostic process to help ensure patients receive the most effective care as soon as possible where it's needed. Results from clinical labs are a crucial component to healthcare systems and with POCT, tests can be performed outside the standard laboratory and right wherever a patient is, providing faster test results. The most common POCT tests include blood glucose monitoring, home pregnancy tests, rapid strep, hemoglobin, as well as prothrombin time/international normalized ratio tests. For example, the rapid strep test allows for patients to be treated earlier and reduces the risk of complications from not treating it.
HISTORY
Starting in the 1950's, most clinical laboratories were able to run large numbers of tests at low cost, and it became common to send samples to laboratories and then wait for weeks to obtain results. In early days of medicine, there were very few medical tests that were done near the patient's bedside. Manufacturers and healthcare practitioners have been pushing to decentralize some testing devices and pushing to bring the testing and diagnoses closer to the patient, in an effort to improve patient care and patient out-comes. Most clinicians acknowledge that point of care testing is a prerequisite for early recognition of life threatening conditions as they require that the laboratory results are available in real time and at the patient's bedside or point of care.
As the need for faster results grew and certain medical testing devices have be-come portable, medical testing continues to evolve. Clinical lab results are a crucial component to a patient's healthcare and the speed of results can make a difference for further treatment. Point-of-care testing is available for vast areas of medicine, which is why it is best described as where it is done which is anywhere outside of the centralized laboratory. Results from POCT are typically available very quickly therefore patients can be treated without delay.
BENEFITS OF POCT
Timely and accurate diagnosis can sometimes mean the difference between life or death for a patient. The main idea behind Point-of-Care testing is to bring the tests conveniently and immediately to patients, increasing the likelihood of receiving the results in a more efficient manner. Point-of-care testing (POCT) can lead to more effective medical treatments and an improved quality of medical care. In the home, POCT allows for more frequent, consistent testing and allows patients to take charge of their own medical care; for example, patients who monitor blood thinners at home had fewer com-plications from the treatment. This testing approach is also crucial in emergency situations as well as in the operating room. For example, if someone is having a stroke, there are many POCT options to help create more effective and efficient treatment results. A first responder needs to measure the prothrombin time/international normalized ratio (PT/INR) in order to test blood before they are able to administer stroke medications, and these tests are also able to be used during surgeries and transplants. Another ex-ample is the Neurologica Mobile Stroke Unit which allows for examining the patient in an ambulance while transporting them to a hospital; importantly, it is equipped with a CT scanner allowing the team to quickly assess if a patient is having a stroke caused by a blood clot or hemorrhage.
Another benefit of POCT is alleviating emergency room overcrowding by reducing the time it takes to treat patients and by shortening their overall stays in the hospital. It also reduces the need to move patients around as much in the hospital, allowing for more efficiency and less risk of complications from relocations.
Future of POCT
Point-of-Care testing has already been successful in drastically altering how care is managed and delivered and the market is expected to continue expanding and changing the way healthcare is delivered. This makes healthcare even more patient-focused and provides more efficiency for treatments. Many emerging point-of-care tests include new technologies intended to manage critically ill patients in emergency rooms, or undergoing surgery, and even further tests may be developed for earlier cancer detection. North America dominates the POCT diagnostics market at the moment, but with the in-crease in the incidence and prevalence of diseases, as well as the higher awareness of self-testing and home care products, adoption of point-of-care technologies is likely to increase.1
Infectious disease testing is also another fast-growing area for POCT, with the intention of diagnosing infections more quickly and allowing for more timely treatment. For example, if a patient is given a point-of-care test and is diagnosed with influenza, the healthcare practitioner can explain quickly why the patient may benefit from being treated with an antiviral medication as opposed to antibiotics. POCT can also help determine if the person with flu-like symptoms has influenza or perhaps a higher-risk infection so the condition can be treated more quickly. This testing is useful as overall medical care is shifting to focus on early detection, prevention and managing chronic conditions. The global market for point of care diagnostic testing is expected to grow from $29.5 billion in 2020 to $50.6 billion by 2025: a compound annual growth rate of 11.4%2. With techno-logical advancements in POCT devices, the rise in infectious diseases as well as in-creasing investments into medical devices are key factors that are driving the growth of the point-of-care market.
Although point-of-care testing will likely never replace clinical laboratory testing, as technology continues to evolve, POCT will continue to be a growing market area and an integral part of the healthcare experience. When time is of the essence, point-of-care testing can greatly improve diagnosis and treatment, making it a smoother and more efficient process for patients and the care-givers alike.
Sources
1. https://www.marketsandmarkets.com/Market-Reports/point-of-care-diagnostic-market-106829185.html
2. https://www.marketsandmarkets.com/Market-Reports/point-of-care-diagnostic-market-106829185.html