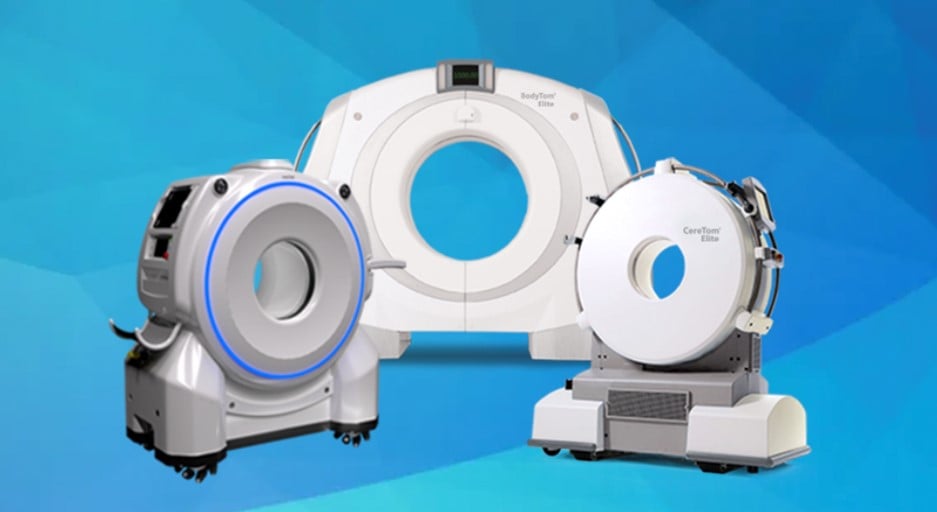 One of the great diagnostic tools created in the last 30 years is the computed tomography (CT) scanner, which has been enhanced over the years, with mobile capabilities.
In nutshell, a CT scanner is a system that combines a series of X-ray images from different angles around the body and then uses a computer to create cross-sectional images (aka slices) of the bones, blood vessels and soft tissues. The CT scanning procedure starts with the patient lying on a bed that moves slowly through a gantry while the X-ray tube rotates around the patient. Next, the CT scanner computer creates 2D images of the slice of the body that is being treated, typically ranging from 0.04 to 0.4 inches thick; and then combines the 2D images to create a 3D image of the body, providing considerably higher quality imaging in a shorter time than the standard X-ray machines. The results of the scan are ready within 15 to 30 minutes, enabling radiologists to review and interpret the scan as soon as it is completed.
The CT scanner can detect signs of inflammation, injury, or disease of various organs such as: the liver, spleen, kidneys, stomach, intestines, pancreas, and adrenal glands. It is also used to look at blood vessels and lymph nodes in the abdomen; and can show a tumor in the abdomen, as well as swelling in surrounding organs. In addition, it can detect lacerations of the spleen, kidney, and liver.
To prepare for the scan, the patient is infused with a dye solution (typically iodine or barium) which works by altering how X-rays interact with body tissues and differentiate the abnormal tissues from the healthy tissues in the result image; thus, allowing doctors to provide the best course of action to treat the patients. The scanning process length depends on the organ scanned, and it takes more time to get the patients in the right position and inject the dye than to process the actual scanning. A CT scan is a painless exam; however, patients who receive intravenous contrast dye (IVP dye) may experience a warm sensation, metallic taste and/or feeling of urination, as well as itching and mild skin rash or hives. The dye stays in the patient's system for 24 hours, unless the patient has a kidney malfunction, in which case it is likely to stay longer.
It is important to note that fixed CT scanners are massive machines weighing up to 4,000 kilograms that rely on high-voltage capacities and cooling machinery. However, there are some situations such early care of stroke patients, battlefield victims or in medical emergency rooms when fixed CT scanner are just too cumbersome to be used efficiently. The immobility of CT scanning machines and the lack of convenient access to CT scans is a huge impediment when dealing with patients for whom speed of treatment is critical; specifically, patients with stroke or brain injuries.
This is where Mobile CT scanning units fit in: they bring the hospital to the patients. Mobile CT scanners are CT scanning systems on wheels meant to be moved easily from room to room. The first mobile CT scanner was launched around 1970 by Medical Coaches Inc, with their founder Ian Smith in a deal with Peru1. The Medical Coaches CT scanner was primarily focused on head scans as well as cross-sectional images of the heart. Over the years, the CT scanners technology improved and provided higher quality multi-functional imaging, while facilitating the transport to the patients point of care. Mobile CT systems are designed for patient safety and faster accurate results; they also allow the machine to be transported into patients' rooms for procedures to be done at the bedside, rather than transporting patients to radiology departments; thus cutting the need for patients and medical personnel to travel to a separate room for CT scanning.
Mobile imaging is evolving and gaining more widespread usage throughout the healthcare industry, the use of Mobile CT scanners and MRI scanners has been increasing over time due to the improvements in economic development of many countries, as well as the technological advancement for CT imaging in hospitals. When compared to fixed CT scanners, mobile CT's were found to have very positive outcomes including: reduction in time of receiving diagnostic services; enhancement of the patients' recovery; reduction in total length of stay at the hospital; higher accuracy in patient management; as well as increased access and responsiveness to the patients' needs2. A key point is the mobile CT's ability to perform imaging and to treat a patient without repositioning and by reducing the patients' movements; which helps provide more accurate diagnosis. The incidence of adverse events, while transporting critically ill patients for CT imaging is as high as 71%3; using mobile CT scanning is a great help in reducing adverse events and ensuring further patient safety, and ultimately saving lives.
The NeuroLogica BodyTom Elite is the world's first mobile, full-body, 32-slice CT scanner which is designed to accommodate patients of any size to provide CT imaging where needed. It is battery powered with an internal drive system, allowing easy transportation. Unlike traditional scanners, the gantry goes over the patient, rather than the patient's table being moved through the gantry. The NeuroLogica Omnitom is a 16-slice CT scanner which offers high-quality CT, CT angiography, and CT perfusion scans4. There are also Mobile Stroke Units, such as NeuroLogica's Smart MSU with Omnitom Elite, which offer a new era of CT imaging within ambulances. Mobile Stroke Units (MSU) are ambulances specially equipped with CT scanners for imaging the head of a patient. The demand for head and neck scanning has increased as it is widely accepted by the medical community that early intervention in treating stroke patients is paramount to their short term and long-term outcome. The MSUs allows a team to swiftly assess the reason a patient is having a stroke and how to treat it efficiently to provide the best outcome. Technologists benefit greatly from having access to portable/mobile CT scanners; particularly in intensive care units, as having these machines available significantly increases treatment workflow efficiency within hospitals, abolishing the need to transfer patients as well as other personnel to the fixed CT scanner.
References:
1 History of the Mobile CT SCAN: Catalina imaging. (2020, November 13). Retrieved April 19, 2021, from https://catalinaimaging.com/history-of-the-mobile-ct-scan/
2 Mohammadshahi, M., Alipouri Sakha, M., Esfandiari, A., Shirvani, M., & Akbari Sari, A. (2019). Cost Effectiveness of Mobile versus Fixed Computed Tomography and Magnetic Resonance Imaging: A Systematic Review. Iranian journal of public health, 48(8), 1418–1427.
3 Masaryk T, Kolonick R, Painter T, Weinreb DB. The economic and clinical benefits of portable head/neck CT imaging in the intensive care unit. Radiol Manage. 2008 Mar-Apr;30(2):50-4. PMID: 18431942.
4 NeuroLogica Corporation, A. (n.d.). Mobile ct. Retrieved April 19, 2021, from https://www.neurologica.com/mobile-ct